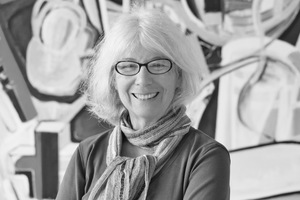 My work has been strongly influenced by my studio location in the Brooklyn Navy Yard: the dry docks, the river, the tugs and barges that make up the shifting scene. In addition to present day activities in Wallabout Bay, the relics of ship building and repairing on the grandest scale still stand and rust. It is a sculpture park, an encyclopedia of shapes and their combinations. It is a text without a glossary, a ruin that has achieved a multi-layered beauty. The seemingly solid blackness of barges, the thrust of cranes, the tenuous delicacy of worn-out metal can generate paintings in which objects that have become abstracted from their original contexts mysteriously interact. The paintings incorporate the element of time in their allusions to the industrial past, as well as in the dynamic interplay of layers of perception.
With the recent spurt of building and rebuilding activity in the Yard, there has been an influx of heavy equipment, especially cranes—on wheels and on barges, as well as the ones on tracks that are still in use. Old piers are demolished to make way for new ones, and some of the giant track cranes are slowly being dismantled. My new work explores these machines as externalizations of the body and the ways in which the body participates in what is seen. Looking at a crane gives me the feeling of swinging, the pulleys give me a lift, the giant hooks suggest a dangerous power. I am entranced by the motion of the crane's neck—the graceful lifting and swinging and setting down of huge loads. There is the arc of the crane's movement, there are the inner mechanisms revealed in the process of deconstruction. Circles may reference the motive forces that drive the machines, stacks of tires form a spinal column.
My paintings attempt a pictorial language that will convey some of the excitement, pleasure and confusion of working amid scenes of marvelous complexity.
Photo Credit: Kevin McGrath